Astera App
The most powerful lighting control App for film and event lighting


To control lights, a Bluetooth Bridge is needed.
Creativity on your fingertips
Create complex animated effects with thousands of pixels that stretch over multiple lights. The AsteraApp offers an intuitive user interface with preinstalled and fully customizable programs and effects.
Wide Application Range
The AsteraApp is designed for beginners and professional operators alike. It is suitable for event and film lighting scenarios no matter if you control just one lights or a complex setup with different groups of hundreds of lights.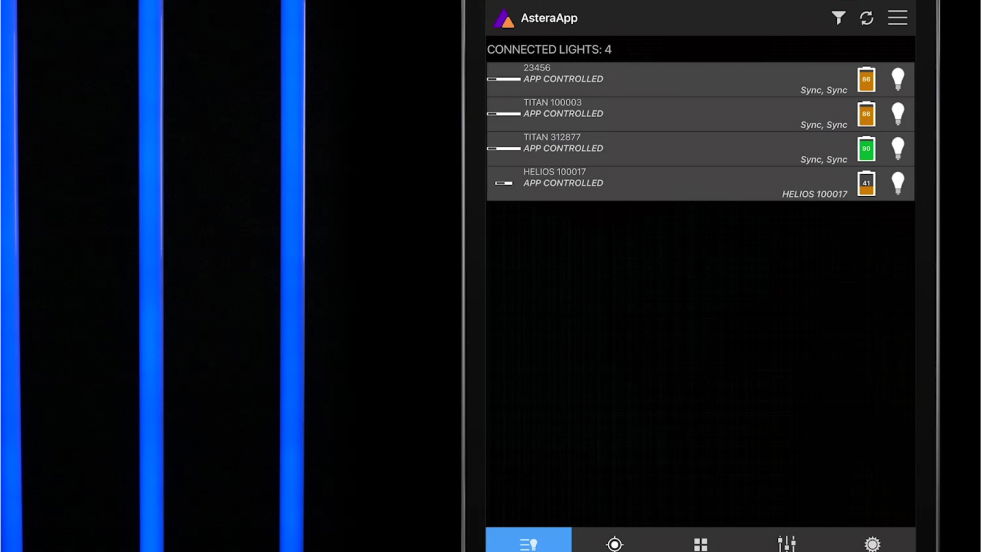 Smart Diagnosing and Editing
Easily setup and monitor your lights from the palm of your hand, no matter how complex your production may be. Powerful tools let you quickly adjust settings of multiple lights, e.g. when preparing them for DMX usage.
Precise Color Input Methods
AsteraApp offers several useful tools to select colors so you are covered no matter if you want to mix your own color or input an exact RGB value or x,y Coordinate. Thanks to Astera's industry-leading digital calibration, the fixtures are able to reproduce the exact color selected in the app.
Simply click on the color you want to get your lights to display it. Dedicated buttons allow for a quick selection of basic colors and common white tones.
Select common Lee and Rosco filter gels based on Tungsten or Daylight light sources to get your Astera light to mimic the color. If you know the gel number, simply type it in to quickly find it.
Mix your color out of White Color Temperature, Hue, Saturation and Intensity. Double-click any slider to dial in an exact value.
Adjust green/magenta during creation to reduce post-production work.
Dial in precise colors out of RGB values or x,y coordinates (CIE 1931) for maximum accuracy. Read out RGB values of your favorite colors to copy them into a DMX console.
Dial in precise colors out of RGB values or x,y coordinates (CIE 1931) for maximum accuracy. Read out RGB values of your favorite colors to copy them into a DMX console.
Complex Customizable Effects
Choose from a wide range of preinstalled, highly customizable effects. Have all lights reacting simultaneously without delay or stretch effects over multiple lights. Your lights will remember and repeat these effects without requiring a constant wireless link.  
Basic effects like fade between colors, running pixels, fire effect, chase effects, rainbow etc. can be created and customized. Multiple lights can be addressed as 1 big virtual fixture to stretch effects along several lights.
Police car, paparazzi, fireworks etc are preprogrammed and can be customized by changing speed, colors and several other parameters.
Full control over your pixels which was previously only possible with DMX consoles. Create complex lighting effects that stretch over numerous lights and offer nearly unlimited possibilities.
Several of the programs can react to music. The ART7's built-in microphone analyzes and matches the beat; flash buttons can trigger special effects while being held down.
Save the programs which you have created to quickly trigger them later. Back-up your programs and settings and move programs, settings and control to another device if needed.
Group your lights
AsteraApp can control individual lights but is also able to create a total of 256 groups each with multiple lights. To increase your possibilities even further, groups can have multiple positions/addresses.
DOP: @troldmann Director: @sebastianbirk @topgunndk feat. @branco_officiel @k.westergren
Create Scenes to save your look
Whenever you want to remember a particular look of your lights you can create a Scene (=Cue) to launch it later. Scenes can consist of multiple lights displaying multiple colors and effects.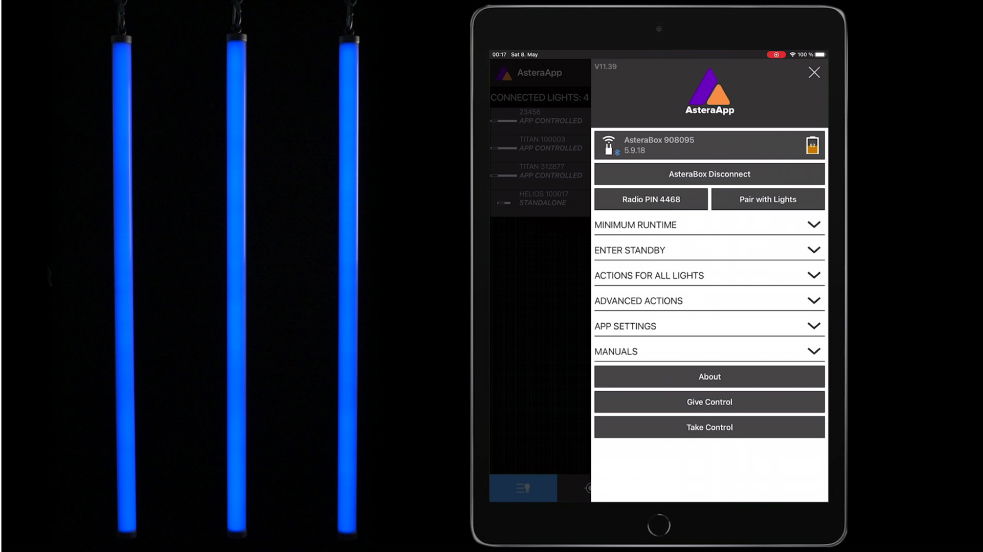 Scheduled Stand-by
To avoid draining the battery of your light installation between setup and usage, Astera offers a power-saving standby feature. This way your lights can be left fully prepared for several days. Alternatively, you can schedule them to switch on or off automatically with the integrated timer.
Manuals Included
Astera has stored all manuals, DMX tables and other useful documents inside the app. Whenever you want to look up a feature they can be accessed, even if you are not connected to the web.
Warehousing
The AsteraApp lets you test and analyze lights within seconds when they arrive in the warehouse. Us the Master Reset to overwrite the settings of multiple lights, this can be done while they are charging without having to power them up.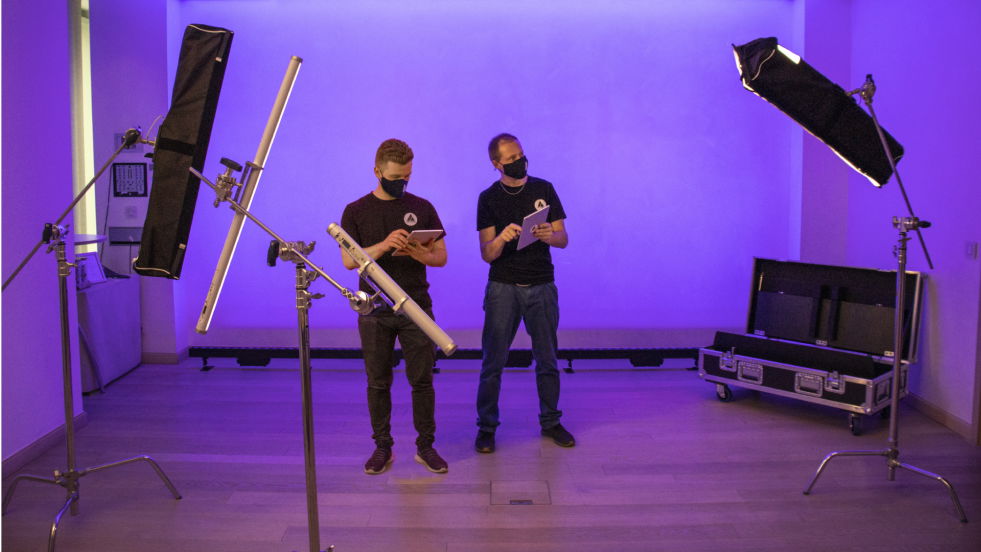 Backup & Handover
You can easily create a backup of all your settings, programs, scenes etc. and recall it later from any phone or tablet. You can also instantly hand over control and all settings from one device to another during a production.
Auto-updates
AsteraApp has been available since 2014 and has received regular updates since then. When your phone or tablet is connected to the web it can receive automatic updates which then update your lights to ensure that you always have the latest features available.